Stedek Sales Director Richard Hammond discusses a surprising strength of the UK's leading timber-alternative range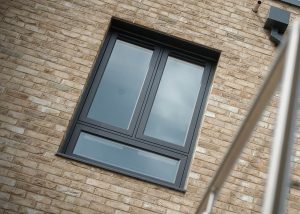 Today's end-users are more demanding than ever. Over the last ten years, we've seen rocketing expectations in relation to thermal performance, cost-effectiveness, aesthetics and style.
Triggered by aspiration-raising TV shows like Channel 4's Grand Designs, a snowballing self-build and home-improvement craze has brought about a major cultural shift.
Consumers are turning away from the mass-market white uPVC of old and embracing the kind of stylish, high-end products that let them fulfil their increasingly bold home improvement ambitions.
For the glass and glazing industry, that has necessitated a change in outlook. Quality, not price, is now the biggest factor affecting which products homeowners buy – and in particular, that's driven the rise of aluminium.
But while aluminium is a perfectly good window material, the industry's fixation with it is arguably very short-sighted. Consumers want stunning products that deliver outstanding performance – and aluminium isn't the only material that can offer that.
Take the rightly-celebrated Residence Collection, for example. When Residence 9 first launched, it blazed a trail with its sleek, elegant lines and incomparably vintage looks – and to this day, people strongly associate both R9 and the wider Residence brand with conservation areas and historic buildings.
But the Residence Collection is far more versatile than you might think. Let's put looks aside for a minute and just focus on the performance. R9, R7 and R2 all offer outstanding thermal efficiency – A++ Energy Ratings and 0.7 W/m2k U Values – making them perfect for ambitious refurbishment and new-build projects.
That's incredibly important because high-end homeowners aren't just interested in style more than ever – they're also increasingly concerned with the environment, and cutting their carbon footprints. That makes selling Residence Collection windows an excellent way to attract affluent consumers planning major home improvements, and, in the long run, grow your business.
But what about aesthetics. Isn't the Residence Collection only suited for historic properties? It's a common misconception, but the answer is no.
Residence 9 certainly thrives in conservation contexts – it painstakingly recreates a traditional 19th-century timber flush sash window, right down to the mechanical joints, vintage hardware and authentic woodgrain foils. But it also excels at bringing a characterful touch to more modern properties too.
Residence 7, R9's younger sibling, is an ideal choice for use in the replacement market, with its seven-chambered, 75mm design and elegantly flush sash interior and exterior.
But it's Residence 2 that's arguably most suited to striking, modern extension, refurbishment and new-build projects. Its squared, bold look provides exactly the sort of sleek and minimalistic style Grand Designs fans strive for – and if it's finished in the colour Eclectic Grey, an R2 window looks indistinguishable from aluminium.
In other words, with R2, your customers can benefit from all the strengths of aluminium, with even greater thermal efficiency and overall performance – it's more ali than ali.
At Stedek, we pride ourselves on Residence Excellence. The Residence Collection is a natural fit for us – DW3, the firm behind R9, R7 and R2, is obsessed with quality, performance and authenticity, and so are we.
There are quite a few fabricators offering Residence Collection products now. But we want to be the best.
If you want the finest products on the market, suitable for everything from centuries-old conservation properties to the most modern new-builds and manufactured with the sort of obsessive attention to detail that only Stedek can provide, then don't hesitate to give us a call.