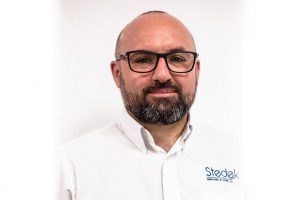 Stedek Sales Director Richard Hammond discusses how and why he joined the fast-growing Midlands fabricator, what makes it different, and why he's so confident it can become the best – if not the biggest – in the UK.
Richard, tell us a bit about life before Stedek?
I entered the industry back in 2006. I started out working as a sales rep at one of the UK's biggest hardware suppliers. It was an excellent way of getting to know the sector very quickly – travelling the country, meeting all kinds of different window businesses, learning how they worked.
But what struck me even in the first few weeks on the job was how different businesses doing the exact same thing could be.
To an industry outsider, that didn't make much sense. A fabricator is a fabricator – they assemble windows. Surely, I thought, that means they should all be essentially the same?
It didn't take long for me to realise that couldn't be further from the truth. I was shocked by how much the businesses I visited could vary – some were clean and efficient, some were messy and shambolic, some were passionate about their work and valued their customers, others just saw them as entries in the order book.
It meant I got very good at separating the wheat from the chaff – and that when I eventually encountered Stedek for the first time, I could immediately tell it was something special.
How did you first come across the company?
It feels surreal when I look back now – for a time I was Stedek's sales rep! It wasn't until later that everything would come into alignment, and I'd join the firm. But it left a big impression.
Of all the customers I worked with as a hardware salesman, Stedek was the best. There was no contest. A lot of my clients were excellent firms, in business for the right reasons, offering their installers a great service. But Stedek were committed to quality to an extent I'd never seen before.
They'd been going for years – they started as a small family manufacturer making windows for their own installations in 1994 – but they'd never lost sight of that family business, customers-first ethos. It's obviously something I learned a lot more about when I eventually joined!
After working in hardware for eight years, I moved to become sales director at a window fabricator in 2014. Moving sectors within the industry was a tough move – and I didn't find the right business to move to initially. Later in 2014, the opportunity to join Stedek came up, and the rest, as they say, is history…
You've mentioned the Stedek ethos – tell us more about that.
We've got an incredibly clear philosophy that we drill into every employee – it started with Steve, our founder, and is now continued by his son Alex, our Managing Director: 'if a product isn't good enough to be installed into your own home, it's not good enough to leave the factory'.
Alex very much leads from the front – he's spent most of his life working for Stedek, rising up from the shop floor to the management, and he has an intimate knowledge of every aspect of the business.
His attention to detail is legendary, and no-one on the team can falsely blame machinery or profile when it's human error at fault – as an experienced fabricator himself, Alex can tell the difference.
We've got no interest in being a super-fabricator. But I've got no doubt that, in a few years' time, we'll be Britain's best fabricator. When it comes to quality, no-one comes close.
Recently, I've been hearing Stedek talk about something called 'Residence Excellence'. Can you tell us more?
At Stedek, we want to be renowned country-wide as providers of 'Residence Excellence'. What that means is simple. R9, R7 and R2 are phenomenal products – the finest timber-alternatives on the market. But the way so many fabricators put them together, they're not achieving their full potential.
Even from an average fabricator, a Residence Collection product will still look impressive – the core system is that good. But done properly, the way Stedek do it, they're best-in-class.
Residence is a perfect fit for Stedek. Designers and extruders DW3 are as obsessed with quality, performance and service as we are – and R9, R7 and R2 are the kind of world-leading windows that demand the sort of care and attention synonymous with the Stedek name. In our view, there's no point supplying or installing a Residence Window if you're not going to do it right.