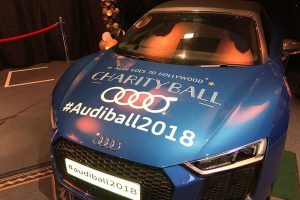 Stedek, fast-growing fabricator and purveyors of Residence Collection excellence, proudly supported the Audi Charity Ball (#Audiball2018).
Organised by Jardine Motor Group's Audi Dealerships across the West Midlands, and now into its fifth year, the event drew business leaders from throughout the region in a bid to raise thousands of pounds for deserving local charities.
Whizz-Kids, which supports disabled children, Legacy4Lucy, a breast cancer charity, and Promise Dreams, which fulfils the wishes of terminally ill young people, have benefitted from £36,000 in funding from previous Variety Balls, with this year's event raising a further £12,596.
"We were absolutely delighted to support such a fantastic event," comments Stedek Sales Director Richard Hammond. "It's an amazing opportunity to contribute to some incredibly worthwhile causes.
"My wife Helen is very involved in organising the event, so I know just how much hard work and dedication goes into making the Ball happen every year.
"This time, the team outdid themselves with some outstanding entertainment – including music from X Factor finalist Joseph Whelan – so huge congratulations to everyone behind the scenes who made it happen.
"The event was also sponsored by one our valued customers, Three Pines Building Company Ltd, and it was great chance to support them as well."
"We look forward to attending next year!"
Celebrating 24 years in business, Stedek is one of the region's most respected window and door suppliers, particularly noted for its uncompromising quality standards, and exceptional Residence Collection windows.