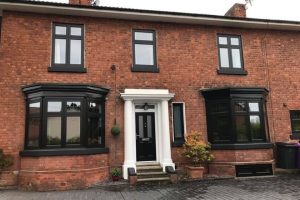 One of the West Midlands' leading installers has become the latest quality-focused firm to endorse Stedek's Residence Excellence.
With over thirty years' experience in the trade, Castle Windows is a Checkatrade-accredited installation business offering a vast array of products to homeowners throughout the region – including the Residence Collection.
Growing demand for high-end heritage windows has led Castle to adopt DW3's celebrated system – and get them from one of the best fabricators in the business, as director Tom Howells explains:
"When it comes to the Residence Collection, Stedek are second to none. R9, R7 and R2 are obviously excellent products, but Stedek's attention to detail is superb, and the finished products are among the best-looking timber-alternatives we've ever seen.
"Our customers love the combination of stunning aesthetics and easy-maintenance that Stedek-made Residence window provide, and the market for them is definitely growing.
"Today's homeowners are more demanding than ever, and if you want to appeal to them, these are the sorts of products you need to be offering!"
Stedek Sales Director Richard Hammond comments: "We love working with installation businesses that share our passion for quality, and Castle Windows are one of the best in the Midlands.
"We're delighted they see the value in our Residence Excellence, and look forward to supplying them with flawless R9, R7 and R2 windows for many years to come!"