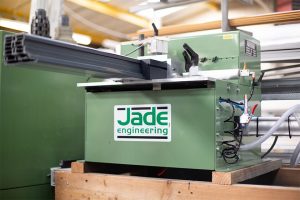 A fast-growing Midlands fabricator is aiming to become one of the country's leading Residence Collection suppliers, after purchasing a further £45k of machinery.
Celebrating 24 years in business, Stedek is one of the region's most respected window and door suppliers, particularly noted for its uncompromising quality standards.
Since 2010, Stedek has made its name manufacturing Epwin's Swish and Profile 22 systems. Now, the firm has acquired a bank of twelve Jade end millers to accommodate DW3's much-celebrated timber-alternative Residence Collection, with the aim of tapping into demand at the higher end of the market.
First launched in 2011, R9 quickly became the benchmark by which all other heritage-look timber-alternatives were judged. In 2016 Residence added the seven-chambered Residence 7, and the squarer, more contemporary-looking R2 to form the collection.
Managing Director Alex Page comments: "At Stedek, we're obsessed with quality, and we've built our business on offering our customers flawless products backed with outstanding service.
"This latest investment is designed to help us bring that same level of quality to the Residence Collection, allowing more installers to benefit from the sort of outstanding service that only Stedek can provide."
Sales Director Richard Hammond added: "We wanted to offer the whole collection so that we can serve a "whole market". R7 meets the needs of the replacement window market. R9 has an established timber alternative niche -but R² is quite unique in its ability to either look like aluminium or timber.
"With that outstanding product range and Stedek's trademark commitment to quality on our side, we're confident we can become known throughout the industry as purveyors of Residence excellence."