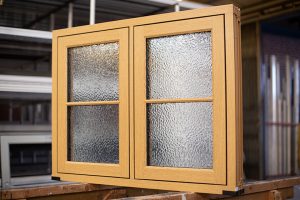 What difference does a fabricator really make? They take components supplied by third parties and put them together. They don't design, they don't manufacture – they assemble, don't they?
And if the same model of window is made with the same profile, the same locks, the same hinges and so on, the end-product should surely be identical, regardless of who "assembles" it – right? Wrong!
At Stedek, respected Midlands-based purveyors of Swish, Profile 22 and the Residence Collection windows, they believe the opposite is true.
Obsessed with quality and dedicated to ensuring every door and window that leaves their factory is as good as it possibly can be, Stedek think that a diligent fabricator is the most important ingredient of all – the crucial X factor that makes all the difference in determining whether a finished window is mediocre or market-leading.
It's an attitude the fabricator applies most notably to its Residence Collection offering, as Sales Director Richard Hammond explains.
"At Stedek, we want to be renowned country-wide as providers of 'Residence Excellence'. What that means is simple. R9, R7 and R2 are phenomenal products – the finest timber-alternatives on the market. But the way so many fabricators put them together, they're not achieving their full potential.
"Even from an average fabricator, a Residence Collection product will still look impressive – the core system is that good. But done properly, the way Stedek do it, they're best-in-class.
From a best in class perspective, Residence is a perfect fit for Stedek. Designers and extruders DW3 are as obsessed with quality, performance and service as we are – and the R9, R7 and R2 are the kind of world-leading windows that demand the sort of care and attention synonymous with the Stedek name. In our view, there's no point supplying or installing a Residence Window if you're not going to do it right."
First launched in 2011, R9 quickly became the benchmark by which all other heritage-look timber-alternatives were judged. In 2016 Residence added the seven-chambered Residence 7, and the squarer, more contemporary-looking R2 to form the collection.
"Everyone knows that the Collection offers outstanding performance and market-leading authenticity," Richard continues. "But in our view, one of its greatest strengths, often overlooked is its versatility. It excels at matching the historic look of 19th Century Timber, but there's much more to it than that.
"In R2, for example, it offers a premium-quality, high-performance alternative to powder-coated aluminium with its bold, squared look, particularly when finished in Eclectic Grey. R7 provides a solution where 100mm outer-frame is too disruptive, but without compromising sash width or all-important kerb appeal."
"Whatever the application, the Residence Collection is always a strong choice, and, with a vast array of colour choices available from stock, there's Residence solution for every flush casement application."
Stedek have invested substantial sums over the past 18 months to bring the most outstanding quality Residence products to market. With its Graf cutting and machining centre, a finely tuned bank of 12 Jade end millers, an Urban CNC cleaner and a Graf welder totalling well over £300k, it's very much a case of investing for perfection.
"At Stedek, we're committed to investing in staff, training and technology to remain at the top of our game and become renowned UK-wide as providers of 'Residence Excellence'".