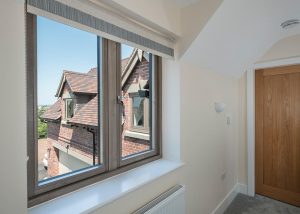 When a celebrated Shropshire builder needed a sustainable, hassle-free alternative to hardwood, they turned to respected fabricator Stedek for help.
RS Burgess & Sons is a long-standing family business committed to quality, reliability and excellent customer service.
For years, it's been carrying out exceptional new-build and renovation work across the region – and it's always on the look-out for great products from diligent, quality-focused fabricators.
That's how the company found Stedek. In business since 1994, Stedek has grown into a major modern fabricator, manufacturing thousands of windows and doors for customers all around the country. But where some larger firms let quality slide, Stedek's ethos couldn't be more different.
"A lot of suppliers are about making the sale at any cost," comments David Burgess, Managing Director of RS Burgess & Sons. "But more than any supplier we've ever dealt with, Stedek are obsessed with quality.
"In this instance, we were working on a high-end new-build project that required an extra-special product. We wanted the aesthetics of hardwood, without the expensive maintenance that comes with timber – which made the Residence Collection the obvious choice. But Stedek's attention to detail took products that were already outstanding to another level entirely.
"With Stedek, businesses like ours aren't just able to benefit from the huge versatility of the Residence Collection – with R9 being the standout choice for heritage applications, R7 ideal for use in the replacement market, and R2 perfect for use in new-build and commercial. We're able to do that while delivering a level of flawless quality that delights our customers and helps us build on our reputation as one of the standout building contractors in the region."
Richard Hammond, Stedek Sales Director, comments: "We want to be Britain's best Residence Collection fabricator. That's why our tagline for 2018 is 'Residence Excellence.'
"We were absolutely delighted to introduce RS Burgess & Sons to the huge benefits the Residence Collection has to offer, and it's fantastic to be working with a firm that shares our uncompromising commitment to quality."